Kirikiriroa (Hamilton) Microscopy
Contact any of the people listed below if you have any questions regarding their facilities.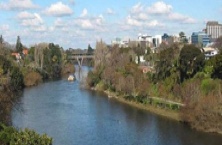 The University of Waikato (Te Whare Wānanga o Waikato) has a scanning electron microscopy facility housed within the Faculty of Engineering. Their emphasis is on materials science, but they also deal with biological samples.
Light Microscopy
Confocal Microscopes
Olympus FV1000-slide imaging. Mounted on an Olympus IX8 inverted microcope.
Electron Microscopy
Scanning EM
Hitachi S-4700 Field Emission SEM with Quorum Technologies Cryo-system It is equipped with an energy dispersive x-ray system which allows both qualitative and quantitative elemental analysis.
Contact
University of Waikato

Helen Turner
hturner@waikato.ac.nz