Te Whanga-nui-a-Tara (Wellington) Microscopy
Feel free to contact any of the people listed below if you have any questions regarding their facilities.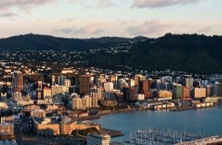 Set near the city centre, the Victoria University of Wellington (Te Herenga Waka) has an electron microscopy facility, amongst its other varied analytical instruments.

The electron microscope suite at Victoria University consists of two
scanning electron microscopes and a transmission electron microscope, as well as various tools for sample preparation. These preparation tools include carbon, platinum, gold and other sample coaters, and an ion beam thinner.

Electron Microscopy
Scanning EM
JEOL 6500FJ
EOL JSM-5300LV
Contacts
Hugh Green Cytometry Centre, Malaghan Institute of Medical Research

Alfonso Schmidt, Senior Staff Scientist - Bioimaging Specialist

aschmidt@malaghan.org.nz
Victoria University of Wellington

David Flynn
david.flynn@vuw.ac.nz